The season of craft fairs, teas and sales is almost upon us! We hope you can join us at some of the lovely events that welcome the coming winter season. Handmade, local, delicious, and inspiring, here are some of the spots where you'll see us this season:
PINK DAYS IN BLOOM "LITTLE CHRISTMAS FAIR"
Sunday, November 6th, 2016 from 11 am – 5 pm
In Support of the Canadian Breast Cancer Foundation – the sweetest fair in town!
Rocket Bakery, on the 3rd Floor – 272 Water Street, St. John's
Admission: $2, children 12 and under – free
43rd CRAFT COUNCIL OF NEWFOUNDLAND AND LABRADOR CHRISTMAS CRAFT FAIR
Wednesday, November 9th from 4 pm until Sunday, November 13th, 2016
The biggest and best craft fair in the province!
At the Jack Byrne Arena, just 2 km past Stavanger Drive on Torbay Road
Admission: $5, children under 12 – free
QUIDI VIDI VILLAGE PLANTATION CHRISTMAS OPEN HOUSE
Saturday, November 26th from 10 am – 4 pm
At Quidi Vidi Village Plantation, 10 Maple View Drive, St. John's
The Freels will be playing 12:30 until 1:30pm.
Come enjoy a warm holiday atmosphere, music, laughter, and fine craft. Perfect for gift-giving time.
SOME GOOD MARKET COMES TO TOWN
Saturday, December 3rd, 2016 from 10 am – 4 pm
At Canonwood Hall, St. Thomas Anglican Church, 8 Military Road, St. John's
Some good fun! All kinds of goodies and lovely handmade items.
Admission: free with donation to the Community Food Sharing Association
ANNA TEMPLETON CENTRE TEA AND SALE
Friday, December 9th – Sunday, December 11th
At the Anna Templeton Centre, 278 Duckworth Street, St. John's
A holiday tradition – nothing says Christmas like a visit to this delightful tea and sale.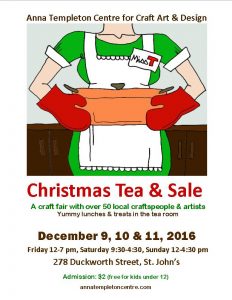 Admission: $2, children under 12 – free
Saturday, December 17th, 2016 from 9 am – 2 pm
The final Farmers' Market until next spring! Home grown goodness at the Lions Club Chalet, off Bonaventure Ave in St. John's